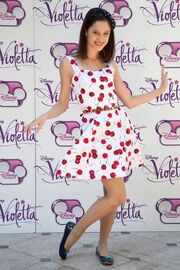 Like everyone know, Lodovica Comello plays the character Francesca Caviglia on Violetta. Now, Lodo is working on her first album called "Universo", and she's planning to go on tour in this year, 2014. Lodo was born in April 13, in San Daniele del Friuli, Italy. She have an older sister named Ilaria Comello. Between 2009 and 2011, she participated as a dancer of the tour "Il Mondo di Patty", a musical based from the Argentinean telenovela "Patito Feo". In 2011, she auditioned for a Disney television series
Violetta
and received the role of "Francesca". In 2013, Lodovica, along with Martina Stoessel dubbed the Italian version of the movie
Monsters University
as the characters of Britney and Carrie. Lodo is currently working on Violetta in Concert, which is very close to the end. It is possible that she will keep playing the role of Francesca on this third season of Violetta.
This is a club for all the Comellistas, if you're a big fan of Lodo, what are waiting for?
Comellistas
Young Lodo
Ad blocker interference detected!
Wikia is a free-to-use site that makes money from advertising. We have a modified experience for viewers using ad blockers

Wikia is not accessible if you've made further modifications. Remove the custom ad blocker rule(s) and the page will load as expected.