"Junto A Ti" is a song sung by Martina Stoessel and Lodovica Comello as Violetta Castillo and Francesca Caviglia. This song was written by Sebastian Mellino, Pablo Correa and Ezequiel Bauza.
Lyrics
Hoy contigo estoy mejor,si todo sale bien
lo puedo encaminar y estar mejor
me puedes escuchar y decir no,no,no

Hoy se que es lo que debo hacer y nunca mas
regresara el dolor, oh oh oh oh
si no lo puedo ver, enséñame

Pienso que las cosas suceden
y el porque solo esta en mi mente
siento que sola no lo puedo ver hoy...
Ahora se, todo es diferente,
veo que nada nos detiene
yo lo se, mi mejor amiga eres tu

Se que te puedo llamar, para estar junto a mi
yo se que tu vendrás, y lo mejor...
me sabes escuchar, para darme valor...

Tu me das la libertad de ser quien soy
y lo que quiero ser,oh oh oh oh
si no lo puedo ver, enséñame

Que mas da, friend,amichi,amiga
me da igual, digan lo que digan
Only you, mi mejor amiga eres tu
Gallery
| | |
| --- | --- |
| | To view the Junto A Ti gallery, click here. |
Video Gallery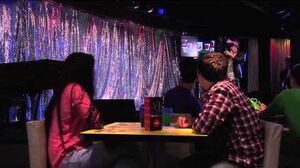 Trivia
This song was written by Francesca.
Francesca, Camila and Violetta sang it at the big show in the season 1 finale.
Marco and Francesca sang this song together in the karaoke bar.
This song is considered to be a Franletta song.
Francesca sings the acoustic version of this song in season 1 episode 67, and that's the first time it's heard in the series.
Violetta sang it in the finale of Talents 21.
The full version of this song was first shown in the 69th episode of Season 1.
References
Ad blocker interference detected!
Wikia is a free-to-use site that makes money from advertising. We have a modified experience for viewers using ad blockers

Wikia is not accessible if you've made further modifications. Remove the custom ad blocker rule(s) and the page will load as expected.